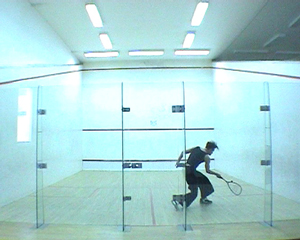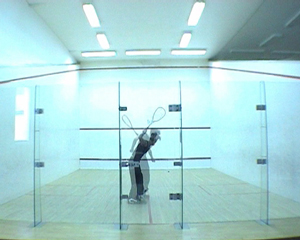 WALL MOLESTER / WANDBELÄSTIGER
video installation, loop duration approx. 8.00 min. / MiniDV transferred to DVD,
different materials / dimensions variable
The video shows a squash player, he is alone in the court playing continuously the ball. Only seen from behind, framed by the strict geometry of field's lines, he fights against the static wall in front of him. The modified original sound of ball's pitching beats the time to the game's rhythm. This cannot achieved, the apparent freedom of game is broken and mutates to determining force of the lab-like situation.
The sports and entertainment industry as proving grounds for the human body's performance and compatibility with machine(-time). The factor time is inherent to all machines of production following the expected efficiency. Starting from steam-engine and their constant rhythm, to the time code on videotapes guaranteeing synchronisation. Time is the universal power determining every dynamic process. The increasing beats of time and the interface's ergonomics enclose and absorb the individual. There is no time left for reflection, because the primary purpose of the fast-growing integration of human into mass media structures is not archival storage or memory but real time and synchronisation. The human factor is asynchronous; failure means to lag behind reality. Complex and existential individual structures are excluded or narrowed to icons; to media itself.