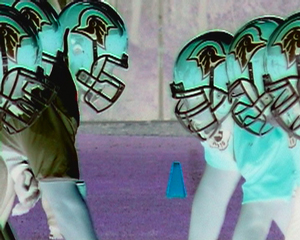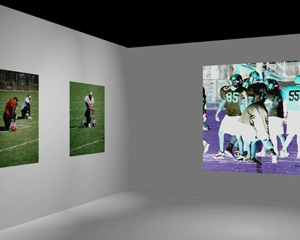 GAME
photo–video installation, duration approx. 10.00 min. / MiniDV transferred to DVD,
4 - 6 c-prints mounted on dibond
Similar to an ancestral portrait gallery or a hall of fame the photos are placed in row on right and left wall leading to the frontal video screen / monitor. The photos show American football players fully dressed in their football outfit reminding of knights or gladiators. Helmets off, resting on their knees their posture looks suppliant, reverential and equally awesome and contemplative.
The video shows the training team trying several drives and offence strategies. The game is aggressive and the images slightly modified could also be taken from a real battle scene. Everyone knows the situation in the stadium where the atmosphere is charged with emotions in the face of the substitution battle. Especially in live broadcasts where the most spectacular sequences are emphasised and repeated in particular. In between sports aren't thinkable any more without mass media, especially these which can be made periodically to national or global events (leagues, championships).
Thereby the sports event becomes a cultural interface, not least by its economical impact. In which way it is understood is negotiated in special forms of presentation and its central position in the society and its systems of media. Although or particularly it is a matter of a clearly defined, exceptional area (stadium, arena), due to the rules and their model character mass media sports operate and are used to mediate social and political codes and behaviour.